We understand that the process of selecting new tiles for your home or place of business can be a long, often difficult one. To simplify the process for you, we suggest a specific, tried-and-true three-step model.
The SCT model is an attempt to make tile and stone selection as simple as possible.
There can be thousands of choices in a large tile showroom. Making the choices below can substantially decrease some of the confusion associated with making tile and stone selections.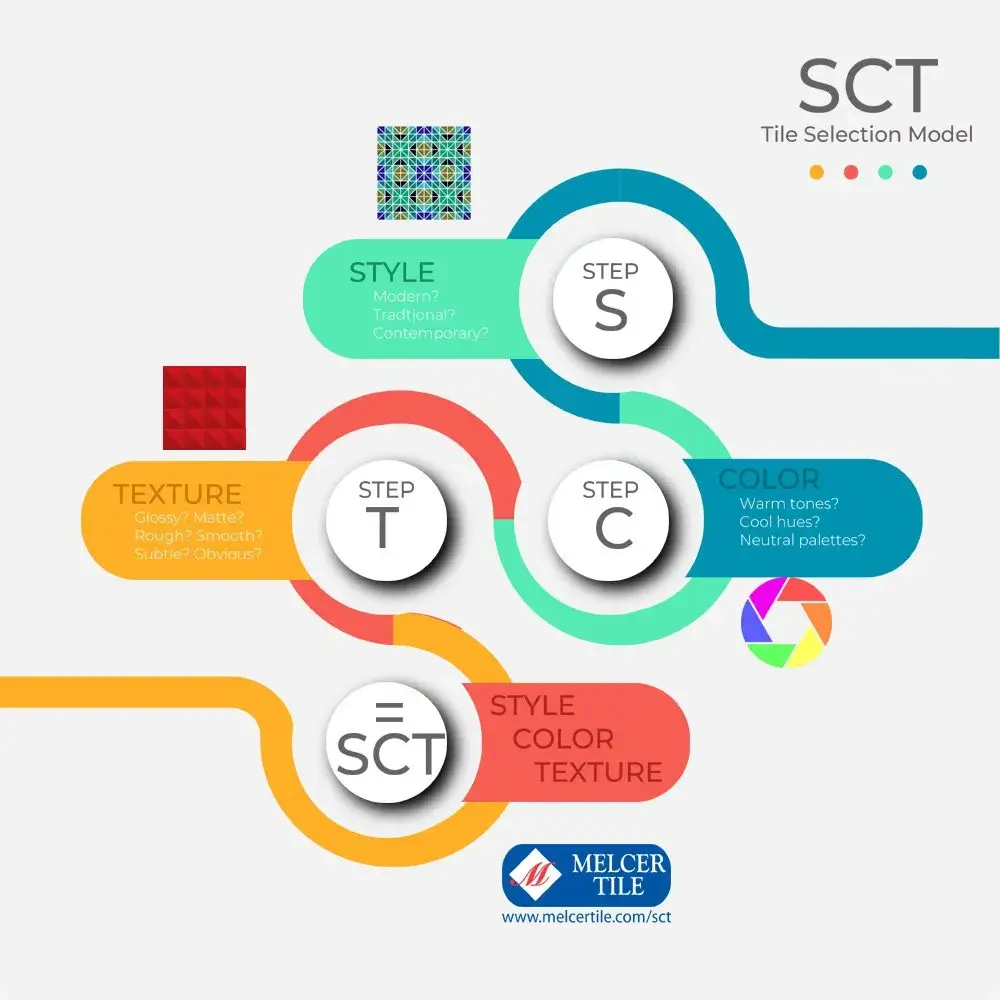 Identify what style (traditional, modern, and so on) your project will be. Once the style has been decided on, there will be many choices that will be naturally eliminated.
Identify the precise color tones that you'd like to use. Once the color tones have been selected, a designer or tile salesperson can show you the exact choices that are available in your color range.
Identify the texture and/or finish that you want (rough or smooth, matte finish or glossy, and so on). Once the texture choices have been made, we can show you the final options available in your color and texture range.
So, when selecting tile, just think of S.C.T. Conversely, when you're selecting your tile, choose Style, Color, and Texture in that order. In addition, bringing samples of products you've already chosen (cabinets, granite tops, paint colors, etc.) can be a good idea.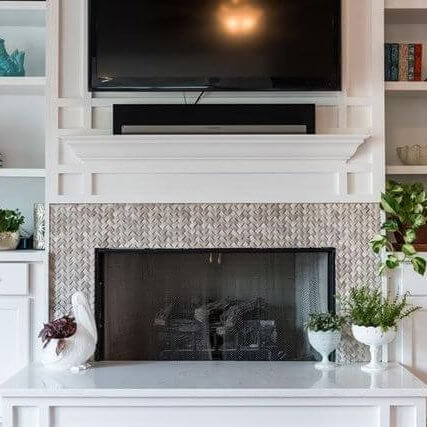 Gallery
Don't just take our word for it. Browse our gallery and see for yourself how, exactly, Melcer Tile can make your home or office beautiful with some of the best tile options around.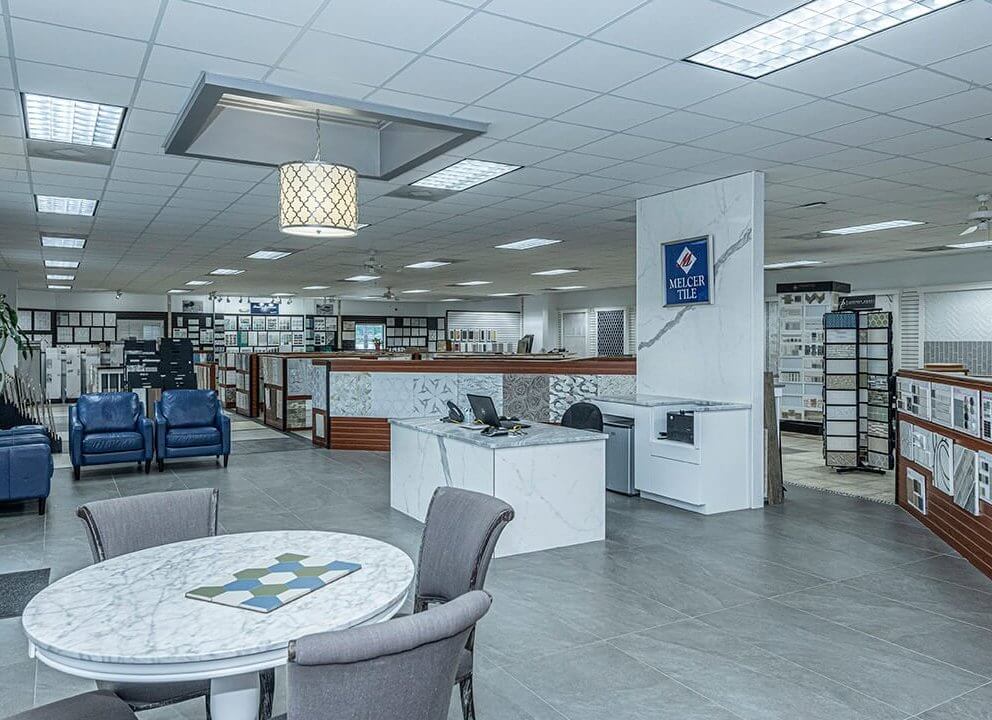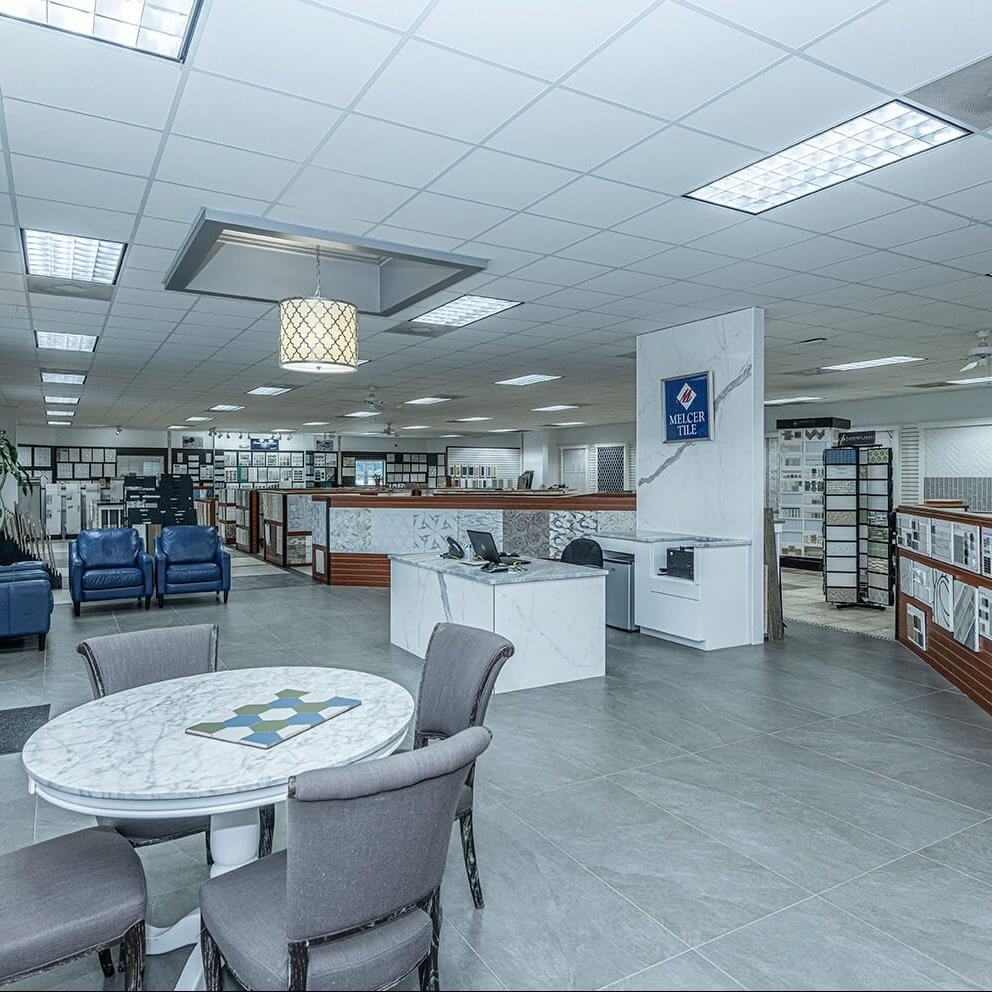 Services
Melcer Tile does so much more than simply produce beautiful tiles for your house or place of business. The customer service that we pride ourselves on means we offer a wide variety of different services to make the process of installing tiles that much easier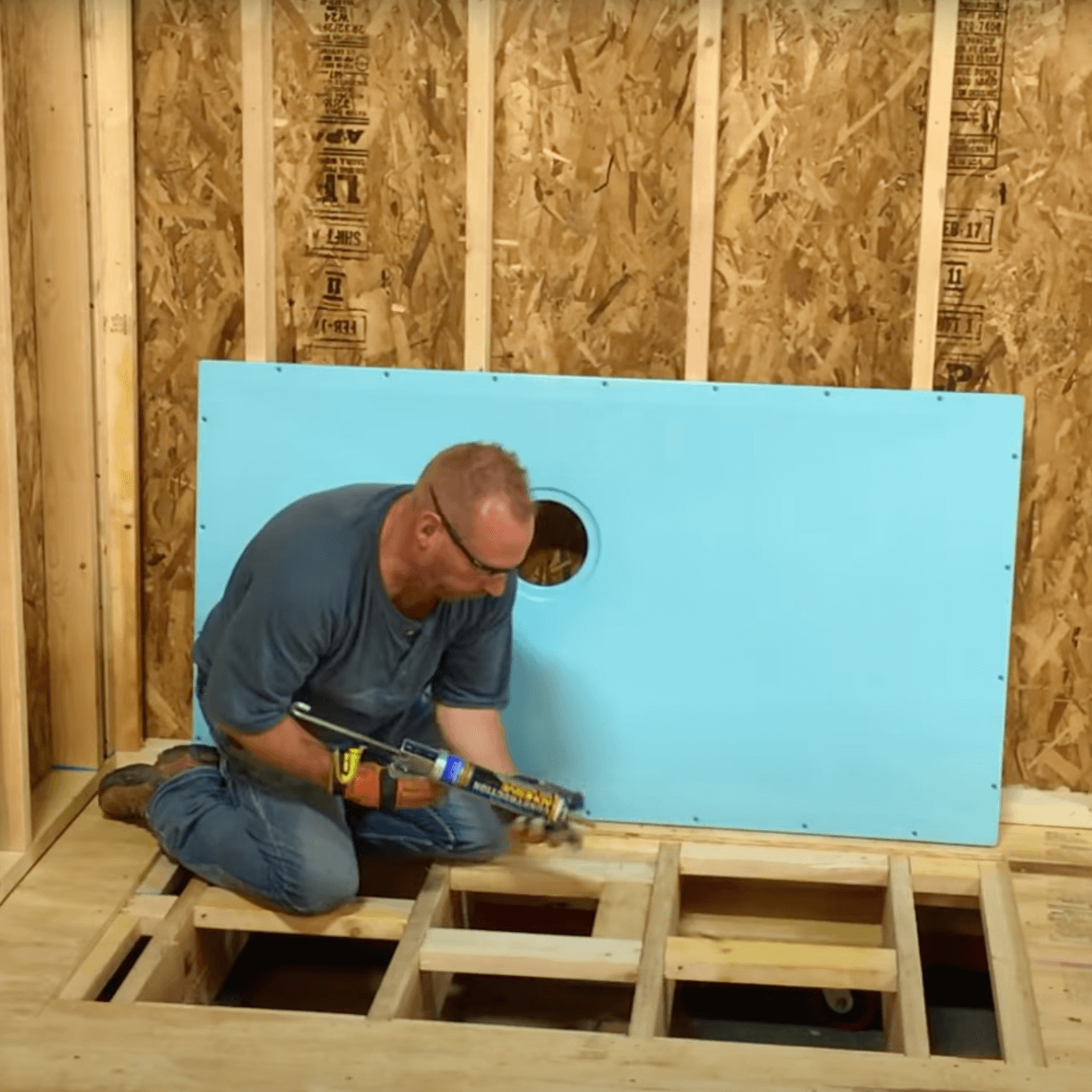 DIY Videos
Are you one of those go-getters who just like to do things yourself? We not only understand, but we applaud your ambitions- and we're here to help. We've put together a number of DIY videos to help you get things done around the house without enlisting the help of the pros.
What Our Satisfied Customers Have to Say
Melcer Tile is absolutely an incredible tile company. Their knowledge of tile choices added to their incredible customer service is impossible to beat! Our experience working with Dawn's knowledge and service was unparalleled.
Melcer tile is a great resource for tile. We recently built our new home and they did a great job for us. Dawn was our rep. who was very knowledgeable and helpful throughout the process. Wouldn't go anywhere else!
On our first visit to Melcer Tile, we just went in to look. Trying to familiarize ourselves with an unknown design process – a master bath remodel, we didn't make an appointment, yet Lizzie De Leonibus greeted us, then proceeded to treat us as if we were valuable clients.Lizzie described some of the basics intrinsic to a successful bathroom remodel; she basically gave us a crash course in the process. In short order we learned about the Schluter shower installation, different types of material such as glazed tiles, porcelain flooring, and tile patterns.Lizzie easily answered all our questions, and we left feeling more confident.The following week, we made an appointment, specifically requesting Lizzie. Friendly and personable, Lizzie answers our questions without going over our head. We'd brought in quartz samples for the vanity countertop and a piece of existing flooring to see what might complement our selections. She then shared several complimentary color schemes. Once she understood our aim was a timeless look, she helped us fine-tune our selections. We chose certain colors and sizes of subway tiles, grout/epoxy color, and recycled glass shower flooring.She was so helpful, and she's earned our trust.Lizzie suggested additional resources of information as a way to further empower us as we navigate color selections.In the middle of our appointment a client came in and brashly interrupted our conversation, yet Lizzie remained courteous. Hotheads exist, but they needn't reign. Lizzie provided a calm response. With impressive composure, she resolved the issue with a few simple clarifications.We have chosen Melcer Tile for our remodel products. Thank you, Lizzie!Lisa and Lee Weatherwax
Kenneth L.
14:54 12 Jul 22
Vinicius M.
14:04 10 Jun 22
I recently visited the showroom with the professional guidance from Jane and the added bonus of the owner, Jay Rauton, stopping by to offer additional assistance if needed and to say hello. The showroom and options are MANY and so tasteful. I was able to make my selections that same day and obtain a wonderful referral for installation. They make the process fun, informative without a pressure sales approach, and you leave happy and sure of your purchase.The installation resulted in a finished project that exceeded my expectations! It is absolutely beautiful! Thank you Melcer Tile, Jay and Amy Rauton, Jane, and Mike! What a wonderful experience and we highly recommend Melcer Tile in the Grant home.Sincerely,Jim and Amie GrantSummerville, SC
Excellent place to shopping for tile. Customer service and designer are great. Thank you so much.
Guillermo A.
16:52 28 Jan 22
Recommended. Dawn is helping us finalize the design for a kitchen backslash and can find the right accents in a major of colors, shapes, sizes and manufacturers. Most selections these days are a custom order, so allow for procurement lead time.
They are very friendly and had me off loaded very quickly didn't mean to give a bad review the first time just hit the stars by mistake
Jennifer is extremely kind and always willing to help. She goes above and beyond to ensure each client's design vision is possible.
Mikayla C.
20:00 20 Aug 21
Good selection . Jennifer was super helpful. They are redoing the contractor area. Showroom is amazing.
Carol Brooks was very helpful in the show room, has followed up on any changes after the order was placed, and always keeps us informed.
Michael S.
17:41 27 May 21
Good experience. Very helpful in picking out tile for two bathrooms, ensuring all the necessary accessories were ordered and following through with ordering and pickup. I will definitely use them again.
We are currently working with Lisa Falzone at Melcer Tile. We are building a home in Kiawah, from the start of this journey Lisa takes time and listens to what we want and what we are trying to achieve . She has been sopatient with us , she is very knowledgeable about all of their product. She is creative and has a great sense of design from color to textures. I can't say enough about our experience thus far . Making these important choices can be so stressful but with Lisa by our side it has been fun!!! Thanks Lisa for your expertise , patience and professionalism!!!
Lisa F. offered the best in professional design support as I navigated all the options for backsplash tile in my kitchen renovation. She helped me find the perfect solution that I will love for a long time.
We recently used Melcer Tile for our master bathroom remodel. Our design consultant was Karri and she was a huge help. My wife knew what she wanted but Karri went above and beyond as our consultant. With her help, we had the shower wall tile, the custom shower base tile, and the floor tile picked out within an hour. Melcer Tile has an awesome selection of tile and awesome employees. We also used them for our kitchen remodel a few years ago and I doubt we would go anywhere else for our tile needs. Thank you Melcer Tile!
Melcer is the premier and professional tile store serving greater Charleston for decades. The sales staff are keenly aware of their vast array of products and offer professional advice as they listen to your needs. Kate was especially helpful and her sense of design was spot on as I was choosing my tile. I highly recommend Melcer for your tile. They will help make your home beautiful.
Michael A.
16:28 21 May 21
Like many customers we came to pick out tile for multiple rooms and had some vague ideas of what we wanted.Our budget was much more defined than our design concept.Kate pulled together beautiful tiles within our budget and way beyond our expectations. She is the consummate professional who listens first and then pulls together the tangible products that bring your style and taste to life.Thank you Kate. We couldn't be happier with the end result.And thank you Melcer for providing expert designers as an included part of your service.Bill and Lillian Bright
Lillian Salcines B.
16:11 21 May 21
Great selection of tiles, and very knowledgeable and personable staff.
Mary Kelly B.
21:23 02 Mar 21
I have been using Melcer Tile for many years but I have to pause to give credit where credit is due. I am an interior designer and to a certain extent, I am rather self-sufficient. However, there are times when I rely on the advice of the people that I consider experts in their field. These are the people who not only fill in the gaps, but take a project from average to outstanding. I would be remiss if I did not take the time to shine a light on two Melcer employees - Dawn & Jennifer - who always go the extra mile. These two women keep me in check with their attention to detail, appreciation of and sensitivity to the client's needs, timeliness in their response, and overall professionalism. At one point, Dawn stepped in last minute and seamlessly picked up right where Jennifer had left off on a rather complicated client order. Their willingness to go above and beyond does not go unnoticed, certainly not to me. If they are any indication of the caliber of the rest of your staff (since I have mainly interacted with Dawn & Jennifer), you should be very proud of your operation. Thank you!
I went to Melcer Tile to see if we could find a match to the existing tile I had in a bathroom. I worked with Jennifer and she worked hard to try to find a match and sent samples directly to my house. In the end we chose a different route and now I have tile going in that's an improvement to what I had. Jennifer was SO helpful and fantastic to work with! Now to find another project so I can work with Melcer again...
As a Charleston interior designer, I rely on vendors with quality products and excellent service. Melcer Tile is my go-to for all my tile projects. The staff is knowledgable, friendly, and professional. They treat me the way I treat my clients-with graciousness and appreciation. Melcer Tile is a Charleston tradition that matters.
Alexandre F.
14:55 07 Apr 20
⭐️⭐️⭐️⭐️⭐️ All the way! Walked in and was immediately greeted with a warm welcome from Dawn. She asked if we needed a designer and I said no. After looking and feeling a bit overwhelmed with the amazing choices, I asked for help. Kate stepped up and we looked at many choices. Finally landing on one my husband and I loved. Kate's personality was perfect and patient with us. We were very indecisive. We will be back! Thankful for Citadel Enterprises and Peter Loy for the excellent recommendation!Way to go Kate!! We are super happy!! 😀
Annalyle A.
21:00 01 Apr 20
We used them for a new bathroom; in stock tile selection was great, service and design choices turned out awesome. There selection is enormous, and you can match and layout what you want. We will use them again for our tile needs.
Excellent professionalism and courtesy as well as knowledgeable staff.I was picking out tile for my bathroom and the sales associate was extremely helpful and patient with me. She followed up with an email with my bathroom design drawn out and sent a follow up thank you note.Best customer service ever!!
My husband Hugh and I are extremely happy with the service at Melcer Tile. Jay is outstanding in his compassion to give excellent customer service. He actually came to our home and helped guide us through a difficult repair even though we purchased the tile over 10 years ago! Definitely the best customer service and product in Charleston. We highly recommend Melcer to everyone.Hugh and Jeanne Williams
I walked into Melcer Tile desperately in need of some ideas and tile selections to help pull a vision out of my head that I had for my place. I was so very fortunate to be teamed up with Kate Glanton. From the moment we met I could tell we would work well together. She was so patient and so very knowledgeable. Within moments Kate had various selections out and also incorporated other designers in the showroom to chime in with their insights as well. It was a total team effort but it was Kate that made it all happen for me. Her keen eye and her ability to listen to me and make those visions a reality will forever be remembered! I can't thank you enough Kate!I would highly recommend Kate for any future renovation project you have upcoming. She is as professional and as creative as they come.Thanks again Kate.....YOU made all of this happen!
Allison R.
17:27 13 Jul 19
Gertrude S.
20:14 26 Apr 19
Best placed in Charleston South Carolina for all your tile needs see Roxy
Juan Luis R.
15:56 13 Mar 19
Malinda F.
21:28 21 Dec 18
Excellent place to shop for tile. Very knowledgeable, helpful... and patient staff.
Amazing product knowledge and professionalism of entire staff. Jill is the greatest! Referral to installer was huge. No job too small to get the best from the best tile company in the Lowcountry.
Contact Us for Mosaic Tiles & More!
Are you interested in designing your home or business with some of the best glass, mosaic, or porcelain tile options in the state of South Carolina? Reach out to us today and let us know what we can do for you! From kitchen and bathroom tile, we have what you are looking for!
4965 Dorchester Road
North Charleston, SC 29418